Blog week ending 25 June
Posted on: 25/06/2021
Angela Garcia is a Y12 WG6 student studying English Literature, Media Studies, French and Spanish. In this week's blog Angela has contributed a piece highlighting her own experience of WG6 and Futures Week, together with tips that she has found useful:
Futures Week. Education has taken a tremendous hit during the covid-19 pandemic and many students feel like they have been left behind in terms of their educational progress, with lockdown restriction making students and teachers alike adapt to virtual schooling and teaching, it's been a hard start to Year 12, one with many unprecedented situations such as; not being able to see family and friends or adapting to restrictions, however that shouldn't stop us from thinking about our future. We're back to school with new measures put in place to reduce the spread of covid-19 this includes a one-way system which at times can be irritating, hand sanitising, testing and wearing face coverings. Many students find it hard to think about the future or have an optimistic approach to where they want to be years later from now, some might be feeling confused or uncertain and these are challenges that the Futures Week at WG6 has allowed us to confront.
Futures Week at WG6 included; coaching sessions that provided students with support on what their next steps might be, talks from teachers and universities to help students decide on what they would like to do in the future as well as offered a package of information, for example, there was a talk about the financial side of university which I'm sure for many students was hugely insightful and helpful. Futures Week has made students think about their future and whom they wish to be going forward. Despite the challenges, we must take the challenges we've faced as part of the learning process to make a better future for ourselves. I personally, before Futures Week, had a rather dismal outlook of my future and all I could think was how it's going to be impacted negatively by Covid-19 to the point that the future wasn't something I wanted to think about. However, Futures Week has made me realise the support that's out there from my teachers at WG6 and it made me more optimistic because it allowed me to organise myself and think about what I want to achieve.
During the last day of Futures Week, we did a personal statement workshop. Personal statements have been something that I believe many students have been struggling with, including myself and this workshop has given us the time to put our heads down and write an amazing personal statement that will be key in us being accepted in our chosen universities. I feel like I've learned a lot from Futures Week and found it informative and helpful.
Covid-19 is not over and there are still many restrictions in place, we are not able to attend universities open days as we usually would have before covid and it has made it harder for students to gain work experience. Here are a few tips that I've personally used as a way to replace these restrictions:
Virtual open days- many universities today offer virtual open days, and I know it is not the same but we have to make do with what we have and find a way to make the situation better. Since we're not able to visit universities make sure you check out their virtual open days to gain a better insight and understanding of the university you wish to go to.
Virtual tours- Universities also do video tours where they'll take you on a virtual tour of their campus, facilities, student's union and more. If you feel like knowing more about the school it's something worth checking out.
Some universities offer live sessions to allow students to discover more about the university they wish to go to and how to make the transition from sixth form to university. You'll have the opportunity to gain insight into career's opportunities, study skills and support. Some universities also offer the opportunity for you to talk to a student and ask them about university life or any questions you might have.
Covid-19 doesn't have to be the thing that defines us, but something that propels us to look forwards towards the future and the only time when we're allowed to look back on the past is to see the challenges we overcame and how far we've come, we are not the past, we are the way forwards.
Written by Angela Garcia of Y12
Mrs Martin, Careers Adviser and Work Experience Coordinator presented a session during Futures Week on higher and degree apprenticeships to highlight the value and opportunities they represent. Mrs Martin provided resources and links to websites for students to explore the broad range of qualifications and careers available.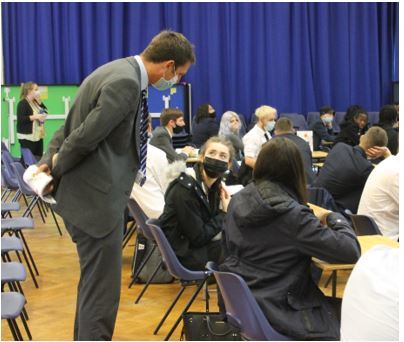 Careers at WGSG: Delivering Outstanding Careers Education and Guidance. In addition to our Y12 Futures Week, there is a comprehensive programme of support and events across our Year groups and the introduction of the new CDI framework (April 2021) for Careers has provided us with the impetus to reflect on the careers provision at each key stage at WGSG. Additionally, reassessment of the Investors in Careers Award will enable us to evidence our commitment and how we deliver careers education from Y7-13 and how our programme offers our students high quality experiences.
Decisions, whether they are about GCSEs and A levels, apprenticeships or university courses, must be made on the basis of thorough and effective research and where necessary seeking independent and impartial advice and guidance. With this in mind activities we deliver include focus days, guest speakers, trips, visits to work related settings and Universities, challenge activities, enterprise opportunities, employability development, work experience and an innovative enrichment programme, all developed to equip our students with the skills and information required to make informed choices, be successful, confident and be prepared for the world of work. We are supported by an array of external guests and providers who share our commitment to deliver high quality careers provision: this includes our Enterprise Coordinator, the local College, apprenticeship providers and universities as well as many businesses and organisations who give their time and commitment to work with our students. This is supported by a long-standing Careers Adviser and external services from Prospects Careers Services who complement Careers Guidance at WGSG. More information can be viewed via the careers and employability pages by clicking here.
Continuing Careers Education and Planning. Year 10 have been introduced to the Future Programme to help them understand that he options they choose at 16 will undoubtedly influence their future direction in learning and work. They have started to have important conversations about future choices through individual personal guidance meetings with a qualified career adviser and focus groups about choosing A levels and specific careers. This will be followed up by a focus morning with research activities which includes seminars on all post 16 options to ensure students have the information they need and taster sessions for sixth form to help them make informed decisions about their next step.
Many students have taken the Morrisby Profile assessment which is one of the best and most useful psychometric tests for students when deciding on a career or higher education path. It is a series of online tests assessing a student's logic, verbal, non-verbal and numerical reasoning, spatial awareness and mechanical aptitude. It also examines personality including awareness, flexibility, commitment, leadership and initiative. Your daughter can still do this at home for £25 which covers a report and lifelong log-in. Payment can be made by Parentpay (Morrisby) which will result in the code to access the assessment being shared.
Mr Green's Y10 Computer Science students are writing the code for their own text-based computer game. Mr Green gave them the starting point, a Lord of the Rings-esque scenario and the students have gone on to develop their own scenarios, designing for all possible user outcomes and creating contingencies. Students have created sophisticated games using around 150 lines of code.
"We've written an adventure game using the programme language Python now we are testing our games and checking for errors" comment from Kaitlin who is pictured below
It is with great pleasure that I share the news that our KMT trainees Miss Mills, Teacher of Science and Miss Slade, Teacher of History have now completed their Qualified Teacher Status. They have been exemplary trainees and an asset to their respective departments. I am delighted that Miss Slade will remain with us next academic year, whilst Miss Mills is planning to re-locate to the North of England. I hope they both enjoy a long and rewarding career within the teaching profession.
PTA Update. We would really appreciate it if you could please sign up to our easyfundraising and AmazonSmile online initiatives and support our cause. It's completely FREE and will only take a moment to sign up but the donations we receive from retailers when you shop online really mount up and make a BIG difference to us, especially during these difficult times. To find out more please click here
Best wishes,
Michelle Lawson
Head Teacher